Industrial Paper Tube, Inc. manufactures a variety of sizes of heavy duty shipping and mailing containers for same day shipping. Our tubes are constructed from high-quality paperboard material that prevents ripping or tearing and provides great protection for your product.

We offer thousands of different mailing tube sizes that will adhere to the specifications you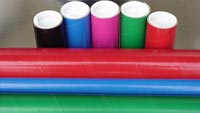 request. We offer different color covers, pre-printed sheets, and plastic or metal end closures.
To select a proper tube, please keep in mind the following:
Diameter - the inner space of the tube that will comfortably fit your product.
Thickness - the protection amount ranging from thin to very heavy.
Length - the length size of the tube with end closures.
Liners - inner tube protection for your product such as water resistant or rust.
Ideal use for cylindrical mailing tubes:
Blueprints
Posters
Small Carpets
Film
Foil
Textile
Calendars